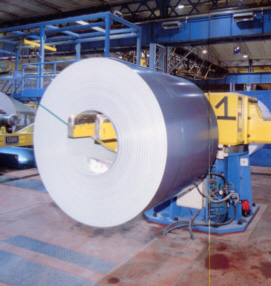 Exposed to sunlight the sample (on the left) where the new coil coating technology has been applied is significantly cooler than the standard coil coating sample on the right. This picture has been taken with a thermal imaging camera.
Both technologies the low emissive and the solar reflective have been adapted to coil coatings where it makes sense to have the exterior side of the metal solar reflective and especially for "single skin" buildings the interior side of the metal low emissive.
In warehouses an enormous amount of cooling energy could be saved and in rural buildings, such as chicken and pig barns, the heat stress of the animals could be reduced significantly.