The lady on the left of these pictures is wearing a "cool" leather jacket whereas the lady on the right is wearing a standard black leather jacket. Before these pictures were taken both have been exposed to sunlight for the same time period.
BMW has presented "cool" leather biker suits at the Intermot 2004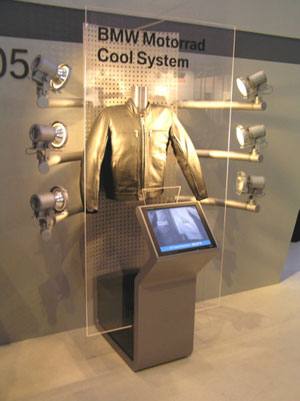 For further information have a look at the TFL Leather Technology website:
www.tfl.com
For information on solar reflective biker seats please contact
www.hornschuch.de
and ask for skai® cool colors for this application.
Further information on solar reflective clothing you will find on our literature page
or contact IPS (Mr. Gerd Hugo) directly under:
e-mail: info [at] ips-innovations.com